Cocktail shakers
Cocktail shaker will be your most-used bar tool when it comes to creating mixed drinks. As the name suggests, mixing is done by vigorously shaking the ingredients in the shaker. There are several types of shakers but the two most common are the traditional Cobbler shaker and the Boston shaker. The Cobbler shaker is a pretty decent shaker for people making cocktails at home, while the
Boston shaker is a more versatile shaker and a bartender's choice. The third type is the French
cocktail shaker which is not as dominant as Cobbler and Boston but gained enough popularity over the years.
🔹 Cobbler shaker:
It is advised that beginner mixologists use the cobbler shaker because of its simplicity of use and handling. The cobbler shaker is a 3-pieced shaker of Japanese origin used in making single cocktails which do not require too many ingredients.
Why you should use the cobbler shaker?
When you need to make single and simple drinks with high precision, the cobbler
shaker is your go-to variety. The "all in one" structure (cup + strainer
+ lid) is very convenient if you want to save some place on your shelf.
🔹 The Boston Shaker: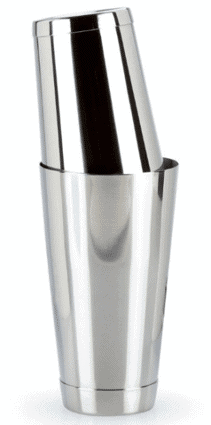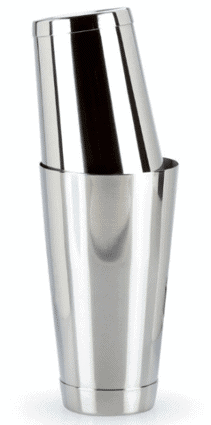 The Boston shaker is the most widely used type of shaker, earning it the tag of a professional's shaker. It comes with 2 components. One piece is smaller than the other so you can bash them
together and create a tight seal when you shake the liquid inside. Sealing and separating the two requires a firm grip and a good tap at the right place.
The steel variety:  two steel cups,
The steel-glass variety — one
steel cup and a glass cup.
The weighted variety — one or both
cups may have added weights at their bottoms.
                              Pros:
✅   Does not easily freeze shut during usage.
✅   It is easy to learn sealing and reopening with a bit of practice.
✅    It is easy to clean out due to its two-part construct.
                               Cons:
❌  Tends to get stuck after long usage.
❌   A separate strainer is required when using the Boston shaker.
❌   Requires some practice to be able to handle the Boston shaker.
Why use the Boston shaker?
If you are going to sue a shaker for longer in making cocktails, the
Boston shaker is your best bet because of how invaluable it is to the process
of making many different cocktails.
🔹 The French shaker:
Also known as the Parisian shaker, this shaker share similarity with
both the Boston and cobbler shakers. It is a two-part shaker with good aesthetics
but is least used because it adopts the negative features of both the Boston
and cobbler shakers.
  Pros:
✅ The only upside of the French shaker is found
   in its aesthetics.
✅  Has a good seal if you use a high-level shaker.
       Cons:
❌   It lacks a strainer.
❌   Requires some measure of practice to handle.
❌    Difficult to separate and is more likely to be
      frozen shut.
Why use the French shaker?
Only use the French shaker in the absence of a Boston shaker,
otherwise, there's not much reasons to. If you're looking for a retro and
classic style shaker and appearance is more important to you than
functionality, the French shaker would be a good choice.