Celebrate World Chocolate Day with this Special Chocolate Cocktail Recipe
Use World Chocolate Day as the best excuse to try out this gorgeous chocolate martini cocktail recipe. Treat yourself to this boozy chocolate martini as a post-work pick-me-up, dinner party dessert, or add it to the menu at your next cocktail party to show off your skills. This rich and comforting drink is a step up from an espresso martini, so grab your Barillio mixology set and shake up this creamy cocktail!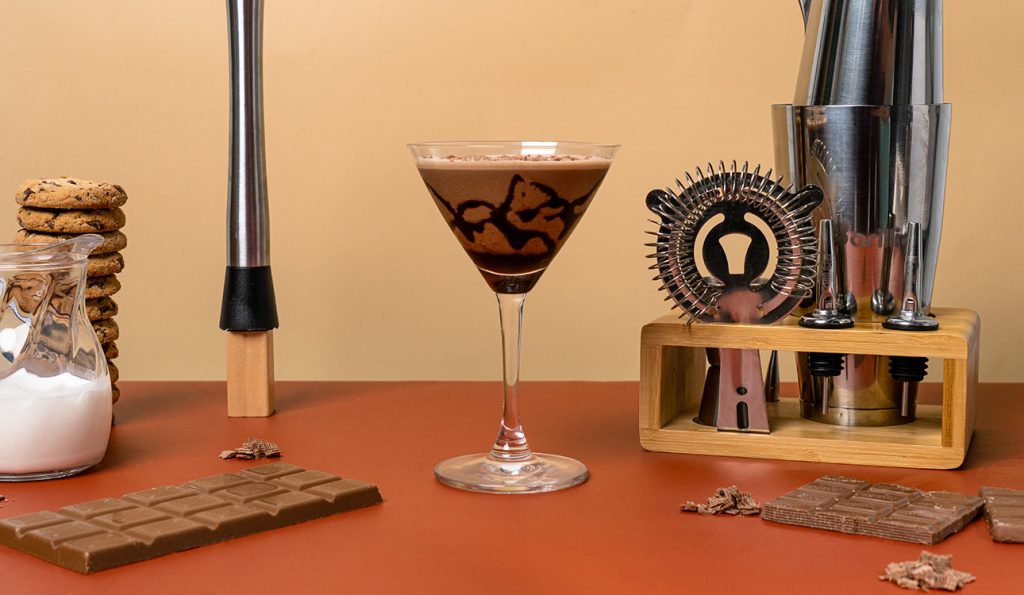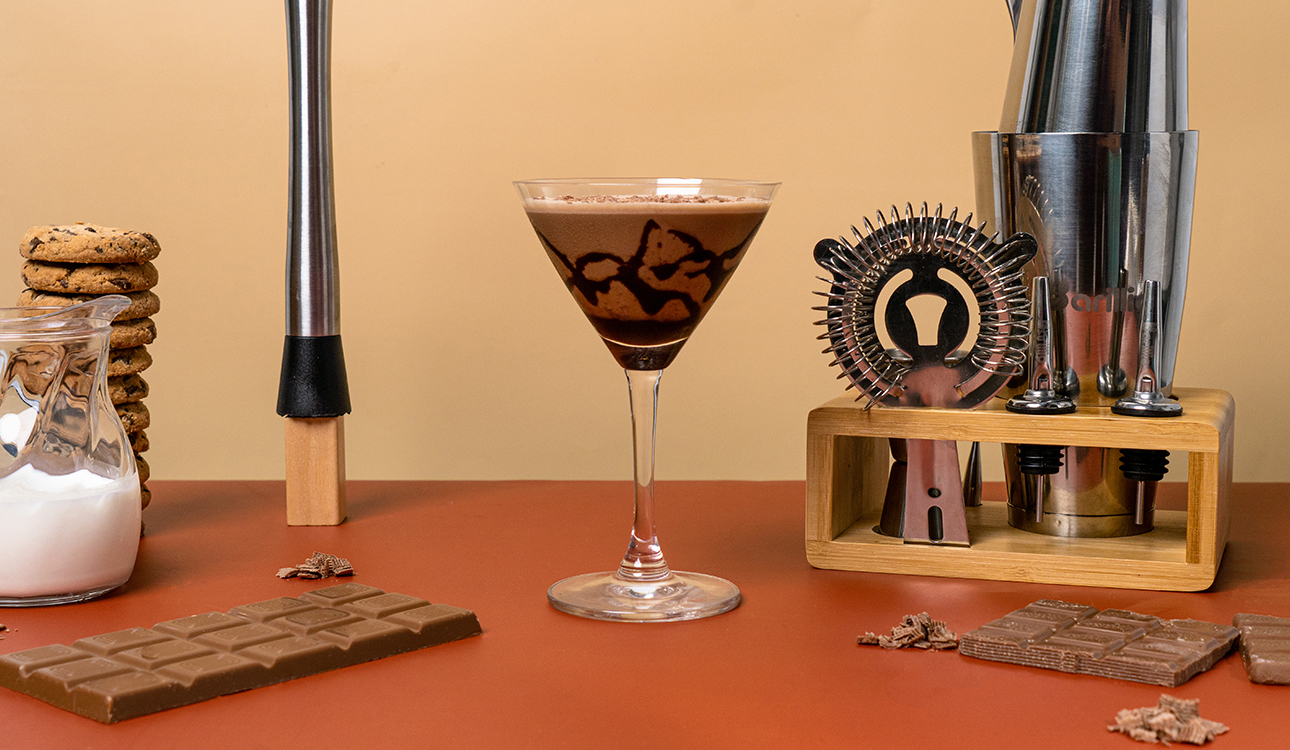 Chocolate Martini Cocktail Ingredients and Kit:
Vodka
Kahlúa Liqueur
Creme De Cacao
Baileys
Heavy Cream
Ice
Chocolate Syrup
Chocolate Flakes
Martini glass
Tips and Tricks for the Smoothest Chocolate Cocktail
The more you shake, the smoother your chocolate martini will be.
Use your finest grater to grate the chocolate into delicate shavings.
Although we recommend topping this chocolate martini with chocolate flakes to enhance the chocolatey goodness of this recipe, you could also garnish it with coffee beans as per a traditional espresso martini.
So you don't overpour the syrup into the glass, chill the chocolate syrup in the fridge before using it.
Choose your favorite high-quality vodka to take this cocktail to the next level.
How to Make this Chocolate Martini Cocktail Dairy-Free
We understand that more people are going vegan or avoiding dairy in their diet for health reasons, but we don't want anyone to miss out on this delicious cocktail.
Here are the swaps you need to make to ensure this chocolate martini cocktail recipe is dairy-free:
Swap Baileys Original Irish Cream for Baileys Almande Liqueur. The slight nutty edge to the dairy-free Baileys also works well with the chocolate and coffee notes in this cocktail.
Swap heavy cream for a plant-based double cream from brands such as Elmlea, Flora, Oatly, or Violife.
Ensure you use dairy-free chocolate syrup and dairy-free dark chocolate shavings for the garnish.
All other ingredients are dairy-free, including the Creme De Cacao, despite the name sounding as though it contains cream.
Hosting Advice
Everyone loves to put their feet up at the end of a successful cocktail party and know they did a damn good job at hosting.
Here are a few tips from our team of cocktail enthusiasts to help you plan a successful cocktail evening with your friends and family:
Plan an area for guests' coats, shoes, and bags: Help decrease your hosting stress by providing somewhere for everyone to store their belongings while they enjoy the event. For example, you could clear out your cloakroom or dedicate the dining room or bedroom for this purpose.
Keep your phone on loud: Chances are some guests will have trouble finding your house or will try and call you to tell you they are running late. Let's be honest, even if you put a giant neon arrow outside your house, some people will still get lost or want to ask you where to park. Therefore, always keep your cellphone nearby on loud and vibrate, so you never miss a call.
Set an end time: Although we love our friends and family, sometimes you just need to tidy up, rest, and recover from the evening. Setting a rough end time on the invites will help your guests know when you are expecting to enjoy some quiet time after the party or head to bed.
Don't forget to make a playlist: Although your guests will create the perfect background atmosphere for your party with the sound of their chatter, it's always good to have a lively playlist in the background. This can help fill the gaps when people are arriving and add to the cheerful ambiance. You could ask each guest to submit 1-3 songs for the playlist to make this a team effort!
Serve snacks: Even if you aren't hosting a dinner party, have a few bowls of nibbles on the table for guests to pick at when they get peckish. Foods like olives, garlic bread, nachos, nuts, cheese sticks, and cocktail sausages are great grab-and-go options you can easily pick up in any grocery store to keep your guests happy. After all, no one wants a hungry houseguest
Chocolate Martini Cocktail Recipe
Celebrate World Chocolate Day with thisSpecial Chocolate Cocktail Recipe
Equipment
Barillio bartender kit including shaker, jigger, and strainer

Martiniglass
Ingredients
1

oz

Vodka

¾

oz

Kahlúa

¾

oz

Creme Decacao

¾

oz

Baileys

½

oz

Heavy cream

Ice

Chocolatesyrup

Chocolate flakes (gratedchocolate)
Instructions
Add the vodka, Kahlúa, Creme de cacao, Baileys, and heavy cream to a pint-size cocktail shaker.

Throw a few ice cups into the shaker and smack on the lid before giving your cocktail a good shake for 10-14 seconds.

Drizzle the chocolate syrup over the martini glass to create a swirly pattern on the inside of the glass.

Pour the chocolate martini into your glass through your strainer to ensure it is extra smooth.

Finish up by sprinkling some chocolate flakes (super finely grated chocolate) on top of the martini, and get ready for this dessert-worthy cocktail to make you want to do a little happy dance as you take each sip.
FAQ
How alcoholic is this cocktail?
This martini recipe uses vodka, Kahlúa, Creme de Cacao, and Baileys. Therefore, there is a fair amount of alcohol in each serving.
Is there caffeine in this cocktail recipe?
Yes – There is caffeine in this cocktail, with the Kahlúa containing the majority of the caffeine in this recipe. Each serving uses ¾ oz Kahlúa, equivalent to about 2.5mg caffeine. As a comparison, the USDA estimates that a standard 8 fl oz coffee can contain around 95mg of caffeine. There will also be small amounts of caffeine in the Baileys and the chocolate liquor as the cacao nibs used to give this liquid a chocolatey flavor contains caffeine.
However, this chocolate martini recipe will have less caffeine per serving compared to a standard espresso martini which contains vodka, Kahlúa, syrup, and a shot of espresso.
Get Ready for Your Cocktail Party to be a Choco-lot of Fun!
Ok, so maybe our puns about chocolate aren't the best, but we can promise our skills at creating tasty chocolate cocktail recipes are top-notch!
If you recreate this chocolate cocktail recipe at home with one of the Barillio cocktail bartender kits, message our friendly team on Instagram or Facebook and share your thoughts and photos with us. We can't wait to hear how you get on with this chocolatey delight.