80's Cocktail Party!
Ready to travel back in time? Well, not literally, but we can show you how to recreate some of that retro energy with this 80's cocktail recipe for the iconic blue lagoon. This blast from the past cocktail is famous for its neon blue color and makes the ultimate poolside drink for vacations and summer get-togethers. Plus, it's one of the easiest recipes on the Barillio blog with minimal ingredients and equipment, so whack on your favorite 80's tunes and let's get mixing!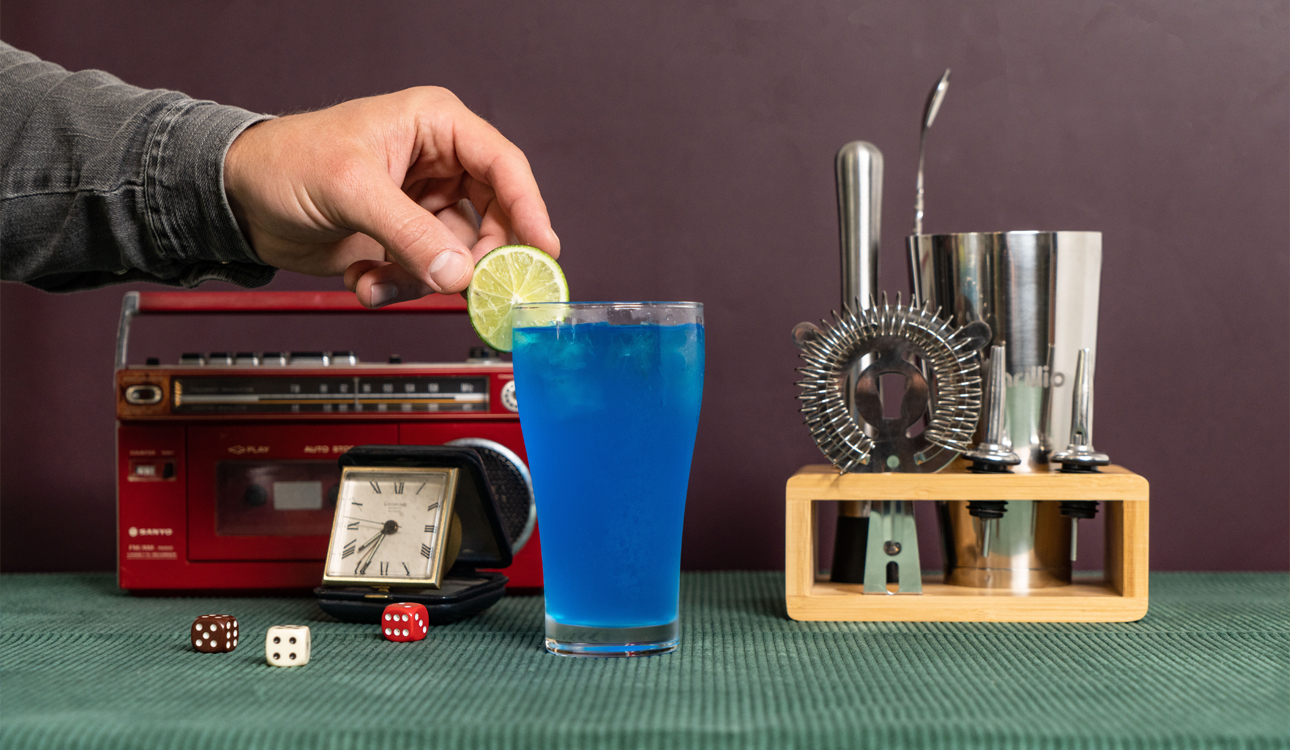 Ingredients and Kit Checklist:
Vodka
Blue Curaçao
Lime juice
Sparkling water or lemonade (recommended)
Ice
Tall glass, such as a hurricane glass
Optional: Lime wedge or maraschino cherry
What Does The Blue Lagoon Cocktail Taste Like?
This blue lagoon cocktail tastes like a pimped-up lemonade with notes of orange and citrus from the Blue Curaçao and zesty lime juice and packs a punch from the vodka. The bitter and acidic flavors from alcoholic ingredients and lime can be offset with the help of some sweet lemonade and a maraschino cherry.
Recipe Tips and Tricks
If you find the tart vodka and slightly bitter Blue Curaçao needs sweetening up for your taste, opt for lemonade instead of sparkling water, or add a dash of pineapple juice or even a teaspoon of any flavorless simple syrup.
You can serve this drink in any large, tall glass. However, for the ultimate experience, use a hurricane or highball glass.
If you are craving a more icy drink, the blue lagoon recipe also fairs well as a crushed iced cocktail. Simply blend the ingredients with ice in a high-speed blender and serve with a straw for the most refreshing blue cocktail out there.
Other Retro Cocktails
If you are all about recreating classic cocktails at home, you will love these other retro recipes:
Top Tip!
Although you don't need a shaker for this blue lagoon recipe, you may wish to grab a French shaker from our online store, as there isn't a more classic cocktail shaker on the market. It does the job of mixing up your creations while adding to the overall retro feel of your home bar.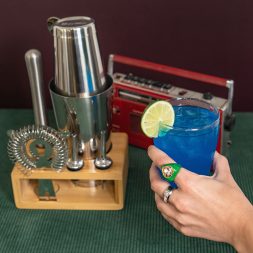 Blue Lagoon Cocktail Recipe
Equipment
Tall glass

Barilliobartender kit (including a jigger and long mixing spoon)
Ingredients
1 oz

Vodka

1 oz

BlueCuraçao

⅔ oz

Lime Juice

Sparkling water or Lemonade

1

Lime wedge or maraschinocherry

Ice
Instructions
Fill a tall glass almost to the top with ice cubes.

Add the vodka, Blue Curacao, and lime juice to your glass with ice (use your jigger to measure the ingredients).

Mix everything together using your long spoon from the Barillio kit, and then top your drink with a splash of sparkling water to taste. You could also use lemonade instead of sparkling water for a slightly sweeter version of this 80's classic cocktail.

Finally, garnish with a wedge of fresh lime or a maraschino cherry.
FAQ
Who invented the blue lagoon cocktail?
Although the blue lagoon is known for being an 80's cocktail, it may have been invented almost a decade earlier, in 1972. It's hard to exactly where this drink originated, but generally, people believe that a bartender named Andy MacElhone created the blue lagoon in Harry's New York Bar in Paris. Andy MacElhone is said to have exclusively promoted the blue lagoon as a blended ice cocktail rather than a shaken or stirred cocktail as it is most commonly made today.
How much alcohol is in each serving of this cocktail?
This blue lagoon cocktail contains 1 oz vodka and 1 oz Blue Curaçao. The vodka contains the majority of the alcohol in each serving as it is around 40% AB. In comparison, Blue Curaçao sits at approximately 25% ABV (of course, the alcohol content of these ingredients may also vary slightly depending on the brand you use).
Make it a mocktail!
To make a blue lagoon mocktail or slightly reduce the alcohol content of this recipe, you can use a Blue Curaçao syrup instead of the Blue Curaçao liqueur.
Start with just ½ oz of Blue Curaçao syrup, as it can be much sweeter than the liqueur. To make this cocktail alcohol-free, you must also omit the vodka. This can be a great option for kids who appreciate the fun color of this drink!
What is Blue Curaçao?
Blue Curaçao was created over 100 years ago by Dutch people on the island of Curaçao in the Caribbean Sea. Blue Curaçao is a liqueur that offers predominantly sweet orange notes to your cocktail recipes. Some people have compared the taste of this liqueur to triple sec. However, there is a slight element of bitterness with the Blue Curaçao, which is why some people prefer to top their blue lagoon cocktail with lemonade.
This cocktail just isn't worth making without Blue Curaçao. If you remember the Friends episode where Joey takes the cushions or the 'essence' from Chandler's armchair, you'll know that the chair (or drink, in this case) just isn't the same without this crucial element!
You also may recognize this ingredient from our red, white, and blue 4th of July cocktail recipe, which is the essence of this neon blue cocktail.
How much lemonade or sparking water should you use?
You may have noticed we left out the quantities for the lemonade/sparkling water. Everyone has their own preferences regarding how strong they prefer their blue lagoon to be.
Therefore, we suggest adding in a good splash of either of these ingredients and then giving your cocktail a quick taste test. Remember you can always add more to dilute the cocktail if it is too strong on your first sip. So add the lemonade in small doses till you reach the perfect mix for your taste! You will probably need roughly 100ml or 3 ½ oz of lemonade per serving.
Get Retro-Ready With This Easy Blue Lagoon Cocktail
The blue lagoon is one of the most iconic drinks from the 80s, and for a good reason! It's tasty, easy to make, and can add the summer vibes you may be going for at your next gathering. Don't forget to check out the Barillio YouTube channel for videos on how to make this retro cocktail and many other tasty alcoholic drinks using our mixology sets.
See you there!