10 Top Non-Alcoholic Cocktail Recipes
A cocktail is more than just the booze, so there's no reason you should go without these delicious concoctions just because you're skipping the alcohol. So, let's shake things up with these 10 non-alcoholic cocktail recipes that will give you a refreshing mouthgasm without needing alcoholic ingredients.
Most of these recipes need a spirit alternative, such as non-alcoholic rum or vodka. However, we have also included a few new recipes that use easy-to-find ingredients you can grab in almost any store. And with the Barillio tools and shakers, you can make these delicious drinks right in the comfort of your home without the buzz from the booze. 
10 New and Modified Alcohol-Free Cocktail Recipes
The primary alcohol in a martini is vodka, so we recommend using a non-alcoholic vodka alternative such as the Strykk 'Not Vodka', CleanCo vodka alternative, or even the Ritual zero-proof gin alternative.
Use the equivalent volume of cold brew coffee instead of the coffee liqueur (Kahlúa). Then use a small dash of chocolate syrup instead of the Creme De Cacao. Finally, add a creamy element to this cocktail with just over one tablespoon of condensed milk instead of the Baileys.
Swaps:
Vodka
Kahlúa
Creme De Cacao
Baileys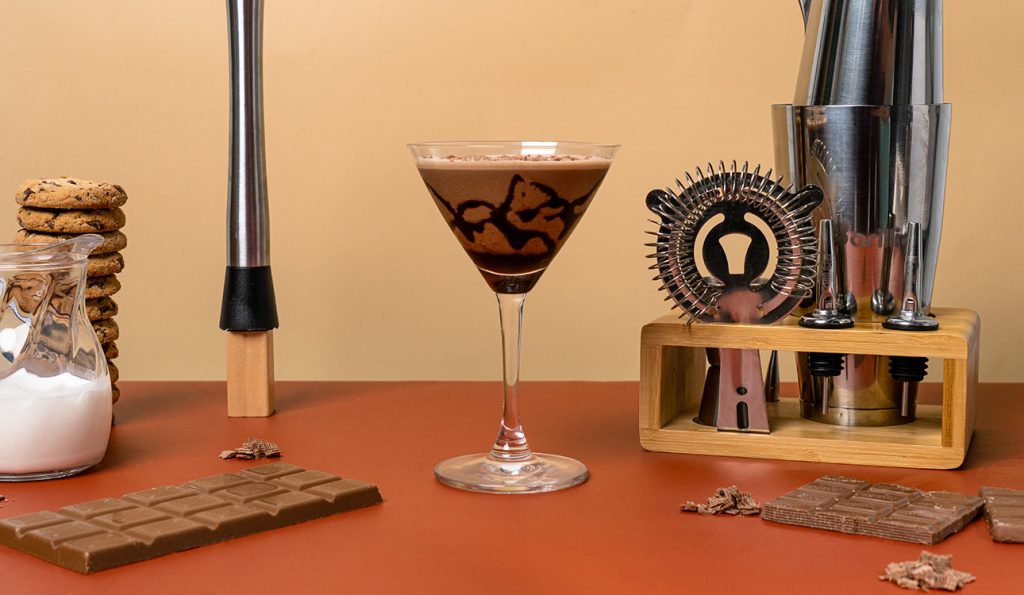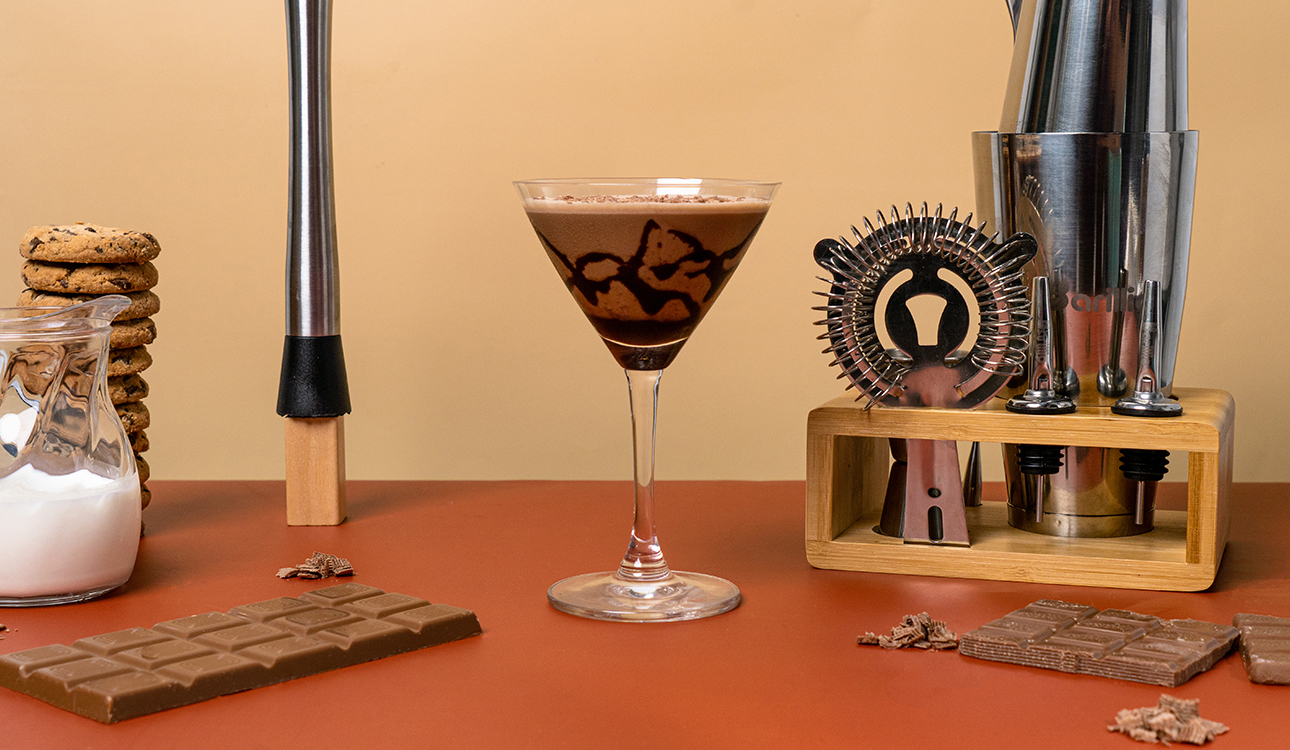 This elegant Espresso Martini requires the same swaps as the above recipe for the rich Chocolate Martini to create a virgin version of this iconic classic.
Swaps:
Vodka
Kahlúa
Creme De Cacao
Baileys 
Swap the white rum for a light rum alternative, such as the Strykk Not Rum or the Ritual Zero Proof Rum.
Then substitute the dark rum for an alcohol-free alternative, such as the Caleño Dark and Spicy non-alcoholic rum, Ronsin alcohol-free rum alternative, or the CleanCo non-alcoholic rum.
Angostura orange bitters contain approximately 45% ABV. Still, each dash will have an insignificant amount of alcohol, so using this ingredient won't tipple your cocktail on the edge of becoming an alcoholic beverage.
Swaps:
Enjoy a virgin Dark and Stormy by simply replacing the white rum with an alternative with no alcohol, as mentioned above.
Luckily the ginger beer in the Dark 'n' Stormy is already alcohol-free as the alcohol content in this drink was removed during the prohibition era!
Swaps:
Not only does the Blue Lagoon mirror the blue water of a lake or the ocean, but it is an iconic drink is a classic 'sip by the pool' cocktail for warm summer days or garden parties. Because of the fun and vibrant blue color, it is also a favorite with kids, so this is certainly a great one to have on your mocktail menu this summer.
Swap the vodka in favor of the alternatives mentioned in number 1. Then swap the blue curaçao for a blue curacao syrup for a mocktail version of this bold cocktail.
Swaps: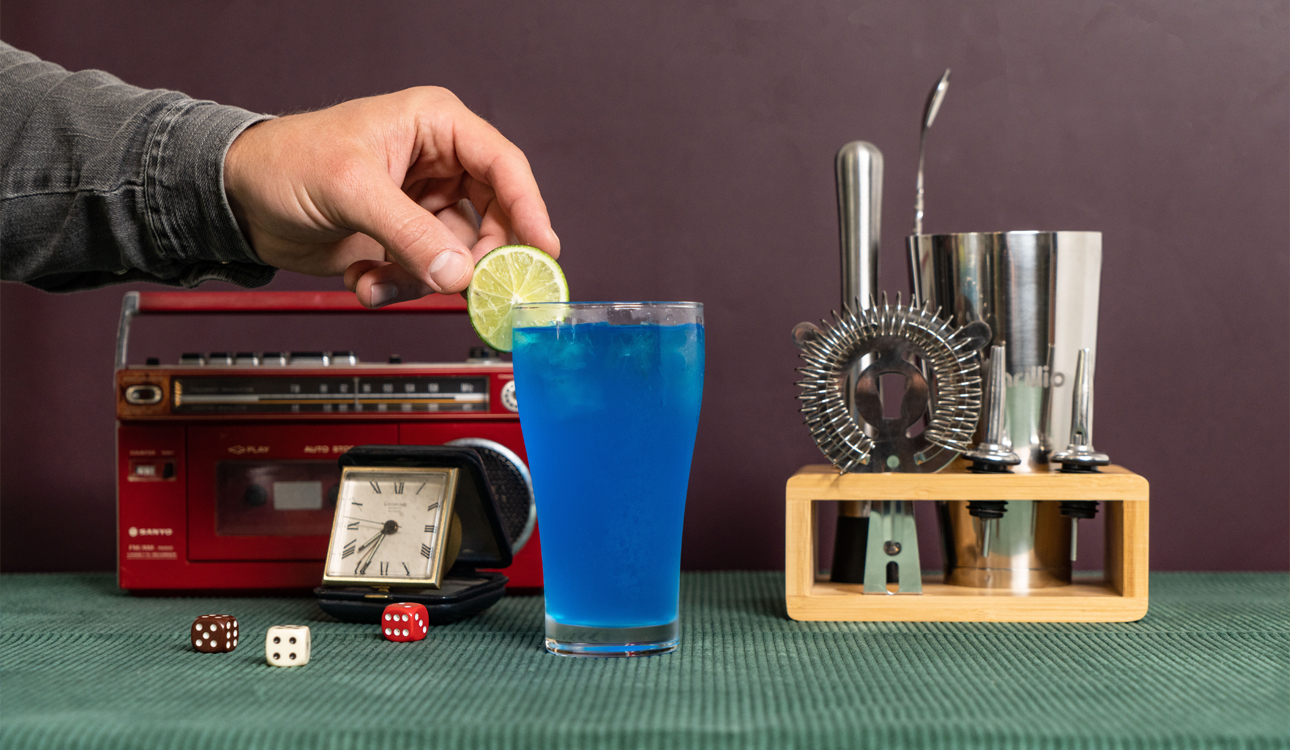 The refreshing Mojito is one of the easiest classic cocktails to transform into a non-alcohol option. You can easily omit the alcohol altogether or simply swap the white rum for a non-alcoholic rum spirit or homemade rum alternative.
Swaps:
Alcohol-free (or 0.5% ABV or less) beers and wines have been on the market for years, and the industry now has countless alcohol-free bubbly alternatives available.
Some popular brands of non-alcoholic sparking wine include Empire Estate Finger Lakes Blanc De Blancs (the best affordable option around $20), Dr Konstantin Frank Riesling Nature (a great mid-range option at $35) or the Evening Land Vineyards Oregon Blanc de Blancs (save this one for toasting special occasions or Christmas at $65).
Swaps:
Piña coladas are one of the most straightforward drinks to mocktail-ify. As the other ingredients do much of the talking in the original recipe, removing the rum will create a richer and creamier (almost desert-like) drink.
Despite this creamy and fruity cocktail containing quite a lengthy list of ingredients, you only need to remove or swap out the rum for a virgin rum alternative to make this Piña Colada recipe suitable for those avoiding alcohol this summer.
Swaps:
Alcohol-Free Cucumber Gimlet – NEW
This Cucumber Gimlet is the ultimate summer refresher that is best enjoyed in the sunshine.
Ingredients:
2 oz soda water
2 inches cucumber, sliced
1 oz lime juice, fresh
1 oz simple syrup, such as
Ice
Method:
Add your cucumber to the bottom of your Barillio cocktail shaker. Muddle the cucumber slices (use a muddler tool to press down onto the cucumber as you squish and compress the cucumber into a pulp).
Add the remaining ingredients, a large handful of ice, and shake to combine.
Serve over crushed ice in a short glass and top with thin slices of cucumber or a wedge of fresh lime. 
Alcohol-Free Watermelon and Lychee Cooler – NEW
We just had to finish this list with a new virgin cocktail recipe that serves 4-6 potions.
Ingredients:
3 lb watermelon (fruit only)
2-3 fresh limes, juice only
100ml lychee syrup
Sparkling water or non-alcoholic sparkling wine, to taste
Ice
Method:
Blend the watermelon to create a liquid.
Add watermelon juice, lime juice, lychee syrup, and lots of ice to a large pitcher and use a long spoon to stir well till the syrup dissolves.
Top with sparkling water or non-alcoholic sparkling wine to taste and stir before serving.
Garnish with watermelon chunks and lime wedges. 
FAQ
Are all non-alcoholic spirits, wines, and beers alcohol-free?
Alcohol-free spirits, wines, champagnes, and beers can technically still contain 0.5% ABV (alcohol by volume) or less. Therefore, they may not be totally devoid of all traces of alcohol.
Although these drinks are fine in moderation and shouldn't get you drunk from one or two glasses, be mindful to check the packaging of the ingredients, especially if you are driving, pregnant, or avoiding alcohol for medical purposes.
Are virgin cocktails more healthy?
Mocktails are a great option if you are looking for a slightly lower-calorie drink option without compromising on the experience of sipping a delicious cocktail.
Where can you find non-alcoholic spirits?
Most larger stores will offer a non-alcoholic beer and wine option, and as alcohol-free spirits are becoming more popular, the options for these virgin cocktail ingredients are only becoming easy to find in stores. However, you can also order these alcohol-free spirits online directly from retailers or through online stores such as Amazon!
Summary
So if you're hosting driving, pregnant or teetotal friends or just fancy a refreshing drink without the hangover, these 10 easy-to-make mocktails are just the ticket!
Although it may seem like a task to source these alcohol-free spirit alternatives, once you stock your cupboard, you are all set to go when making these magical mocktails. Plus, you can use the Barillio tools for a non-alcoholic cocktail to practice your mixology skills.