Zodiac Cocktail Recipes – Aries sign
Aries (March 21 – April 19)
If you're a member of the first zodiac sign, you can be a little young at heart, but you also have a bold and ambitious personality. As an Aries, you love getting stuck in any situation and getting the most out of it. Therefore, there is no better cocktail for you than the tequila sunrise.
This fiery-colored cocktail reflects your fearlessness and passion and your ability to fall in love quickly and beautifully. The Tequila Sunrise is also associated with fun, freedom, and parties, just like the fun-loving Aries. Not to mention this cocktail is named after the first light of the day to nod to the Aries being the first sign of the zodiac.
The recipe is for one serving unless otherwise stated.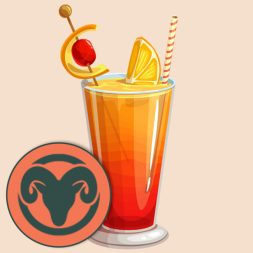 Tequila Sunrise Recipe
Ingredients
½ oz

Grenadine

1 ½ oz

Tequila

½ oz

Triple sec

4 oz

Orange juice, freshlysqueezed

½ oz

Lemon juice

Ice
Instructions
Add grenadine and a couple of ice cubes into a large glass and set aside.

Shake up the tequila, triple sec, orange juice, lemon juice, and ice in your cocktail shaker for about 10 seconds.

Double strain your cocktail mix as you gently pour it into your glass over the ice. Don't pour too frantically, or you won't get the gorgeous red and orange layers! Garnish with maraschino cherry or a slice of fresh orange.
Tequila Sunrise Cocktail – Aries sign
Peach Bellini Cocktail – Taurus sign
Espresso Martini Cocktail – Gemini sign
Sangria Cocktail – Cancer sign
Dark and stormy Cocktail – Leo sign
Spiced Vanilla Apple Spritzer Cocktail – Scorpio sign
Mojito Cocktail – Sagittarius sign
Old Fashioned Cocktail – Capricorn sign
Cosmopolitan Cocktail – Aquarius sign