Zodiac Cocktail Recipes – Aquarius sign
Aquarius (January 20 – February 18)
The charming Aquarius deserves nothing more than a glamourous cosmopolitan. Made famous by the hit show Sex And The City, the cosmo is perfect for the fun-seeking, always looking to socialize Aquarius who can charm anyone with their wit and originality. This cocktail recipe suits you as an energetic air sign who is happy to mix with anyone at a party.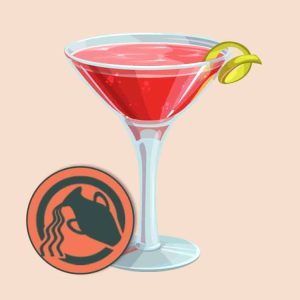 Cosmopolitan
Ingredients
1 ½ oz

Vodka

½ oz

Triple sec or Cointreau

½ oz

Lime juice(freshly squeezed)

1 oz

Cranberry juice cocktail

Ice

Optional: Orange twist or lime wedge
Instructions
Add ingredients to a cocktail shaker with at least a cup of ice and shake well to combine.

Strain the cocktail into a martini glass and top with an orange twist or slice of lime.
Tequila Sunrise Cocktail – Aries sign
Peach Bellini Cocktail – Taurus sign
Espresso Martini Cocktail – Gemini sign
Sangria Cocktail – Cancer sign
Dark and stormy Cocktail – Leo sign
Spiced Vanilla Apple Spritzer Cocktail – Scorpio sign
Mojito Cocktail – Sagittarius sign
Old Fashioned Cocktail – Capricorn sign
Cosmopolitan Cocktail – Aquarius sign
Whiskey Sour Cocktail – Pisces sign